Ripercorriamo gli annunci e le notizie più o meno borderline della settimana, con il solito piglio borderline da giocatori borderline coi baffi che ci contraddistingue. E poi, ci serviva un modo per riempire in modo un po' borderline le domeniche. Borderline. Questa mattina mi sono svegliato con quello che sembrava il rumore di un milione di vetri infranti. Poi ho aperto il browser e ho capito: non erano vetri, erano i cuori che Sony ha sbriciolato con la cancellazione di The Last Guardian.
@notaxation @yosp and I laughed at this rumor over dinner. The Last Guardian has NOT been cancelled.

— Scott Rohde (@RohdeScott) June 8, 2014
Se non fosse che era una bufala. Forse. A questo punto, mi sento di pronosticare che, durante la conferenza Sony, annunceranno il passaggio definitivo dello sviluppo di The Last Guardian da PS3 a PS4 e chi si è visto si è visto. Comunque, volendo recuperare un po' dell'introduzione originale, è stato bello vedere che la settimana pre-E3 è stata pregna di annunci, notizie più o meno clamorose e, in generale, abbastanza roba da lasciarci qui a chiederci "sì, vabbé, ma a 'sto punto cosa annunciano all'E3?". Voglio dire, hanno annunciato addirittura Terraria per PS4 e Xbox One! Comunque, con tutte queste notizione, aleZ si è dato alla pazza gioia, e a me rimane ben poco da sviscerare in questa sede. A parte la bufalona (o presunta tale) su The Last Guardian.
Vabbé, buona domenica
It's Kojima in a box!
http://youtu.be/nwP_2MuHEPE
Qui sopra vedete il buon Kojima che, sfoderando la sua voce da Mr. Brillio, commenta neanche un minuto di Metal Gear Solid V: The Phantom Pain. Più che altro, si esalta davanti alle possibilità di un pollo di gomma con carrucola in mezzo una scatola, ma comunque, è bello vedere Kojima mentre illude il mondo che ci sia effettivamente del gameplay sepolto nel suo prossimo gioco.
The Witcher 3 e GOG
http://youtu.be/HtVdAasjOgU
Con il trailer qui sopra, i polacchi più amati da Obama hanno annunciato al mondo che The Witcher 3 arriverà tra noi il 24 febbraio 2015. Tanto, voglio dire, nel 2015 non uscirà nulla, un gioco catalizzante come The Witcher 3 era necessario per ravvivare la situazione. Eh. Comunque, tutte cose che già sapete, dal momento che ne ha già scritto qui un esaltatissimo (?) aleZ.
Assieme a The Witcher 3, però, è stato annunciato anche GOG Galaxy, client opzionale di GOG.com che permetterà di organizzare al meglio i giochi PC DRM-free, aggiungendo obiettivi, chat tra gli utenti e, a differenza di Steam, la possibilità far partire i giochi senza connessione a internet. Onestamente mi sfugge l'utilità della cosa, ma per queste cose non sono un fulmine di guerra, quindi imbraccio il mio inconsolabile menefreghismo generalista e dico che, indubbiamente, servizi di questo genere è sempre meglio che esistano piuttosto che il contrario, quindi bene così e godiamoci il video, recitato in un bizzarro inglese est-europeo.
http://youtu.be/nyYW9AOWh-8
OMG Forza Horizon 2…?
http://youtu.be/yRRpfbqWNTI
Qui sopra vedete il primo teaser di Forza Horizon 2, annunciato questa settimana per Xbox 360 e Xbox One. Trentanove secondi, che al netto delle dissolvenze e dei loghi saranno sì e no dieci, per farci vedere robe assolutamente non indicative. Bene così. Tra l'altro, a proposito di Forza, Microsoft ha fatto sapere che a luglio uscirà Forza Motorsport 5: Racing Game of the Year Edition, una versione speciale che contiene tutti i DLC e che, nondimeno, verrà venduta alla [inserire commento qui] cifra di 70 euro.
Next gen, old, col cavo
Rimaniamo in casa Microsoft: Major Nelson ha finalmente tirato fuori dal cilindro i driver per utilizzare il controller Xbox One anche su PC, e li trovate a questo indirizzo. La cattiva notizia è che non è (ancora?) possibile usare le funzioni wireless, quindi tocca sfoderare un cavetto USB - Micro USB e fare come nel 1996.
A proposito di 1996 (circa), Phil Spencer, in una conversazione su Twitter (abilmente rimbalzata sull'immarcescibile NeoGAF) ha fatto sapere che ci sono piani, più o meno, per portare la retrocompatibilità su Xbox One. Ora, dal momento che l'architettura di 360 e One è diversa, potrebbe non trattarsi di una cosa proprio facilissima da portare a compimento. Va detto che non è da sottovalutare la possibilità di vedere spuntare su Live Store una bella sezione "retro", in cui acquistare nuovamente in digitale tutti i vecchi giochi e foraggiare, una volta di più, le casse di Redmond. "La resistenza è futile, un po' come le vostre copie fisiche".
Indie indie indie
http://youtu.be/KUZDxMgxguY
Così, tanto per: Sony s'è accaparrata anche l'esclusiva console di Night in the Woods, progetto finanziato su Kickstarter e originariamente diretto solo su PC e Mac. Il gioco è un'avventura un po' sullo stile punta e clicca, tutta incentrata sui dialoghi e sull'esplorazione della misteriosa foresta a cui fa riferimento il titolo. Che dire, l'ennesimo gioco indie intrigante, molto caruccio da vedere e, non a caso, messo nella line up di PlayStation 4.
Quei geni totali di Devolver Digital, invece, hanno annunciato di stare lavorando con Hato Moa per portare ufficialmente la visual novel Hatoful Boyfriend ai popoli non-nippo. Per chi non lo sapesse (non siete soli!), Hatoful Boyfriend è una visual novel (quindi un'avventura interattiva dalla fortissima componente narrativa, spesso romantica) in cui seguire le storie d'amore di una scuola per piccioni. Come se non fosse già abbastanza bello di per sé, il CFO fittizio di Devolver, Fork Parker, ha rilasciato la seguente dichiarazione: "Dalle nostre ricerche è emerso che il malcontento del pubblico nei confronti di space marine e draghi è al massimo storico, i giocatori sono pronti per qualcosa di nuovo: un simulatore di appuntamento tra piccioni semirealistico è la prossima frontiera dei videogiochi". E come dargli torto?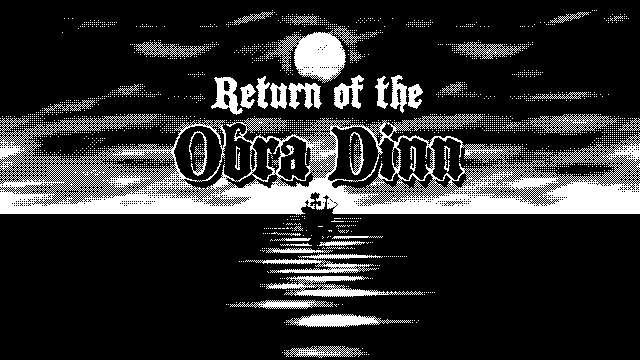 Chiudo con una roba che mi ero dimenticato, colpevolmente, un po' di tempo fa. Lucas Pope, creatore di Papers, Please (agevolo recensione), ha annunciato il suo nuovo progetto, Return of the Obra Dinn, un'avventura investigativa in prima persona, con un rendering 1-bit in 3D. Oldume e fascino, tutto in uno. Want!
That's all folks! Alla prossima settimana con tutto il borderline da Los Angeles!