Sundaycast #134 - Acqua d'ottobre
Ripercorriamo gli annunci e le notizie più o meno borderline della settimana, con il solito piglio borderline da giocatori borderline coi baffi che ci contraddistingue. E poi, ci serviva un modo per riempire in modo un po' borderline le domeniche. Borderline. Amici ma soprattutto amiche, la pioggia di questi primi giorni di ottobre ci ha ristretto le notizie e anche un po' la voglia di vivere. Il risultato è che questa edizione andrà in onda in forma ridotta, a causa della scarsità di materia prima davvero cicciosa e/o davvero borderline da commentare e deridere in questa fredda domenica mattina di autunno. Ma non temete, verranno tempi migliori. Ah, se verranno!
Fotine
Come vedete qui sopra, Hideo Kojima continua a spassarsela nonostante le liti interne a Konami e le voci che lo vedono disoccupato a partire dal primo giorno del prossimo anno. Anche perché, diciamoci la verità, nel caso le cose prendessero davvero una brutta piega (e lo faranno), Hideone non starà certo a lungo con le mani in mano. Come dimostra il tweet in esame, infatti, Kojima è più tentacolare di un takoyaki ancora non lavorato, e tende a passare le sue giornate in compagnia di gente come George Miller, Hideki Kamiya e, appunto, Mark Cerny, il genio di casa Sony a cui, più o meno, dobbiamo il mondo dei videogiochi per come lo conosciamo oggi. E a cui dobbiamo anche Knack. Oh, a pensarci bene, non so quanta riconoscenza si meriti.
Ad ogni modo, la foto in questione nello specifico ha scatenato una valanga di ipotesi su internet: se questo duo stesse architettando qualcosa da mostrare sul palco della PlayStation Experience di Parigi tra una ventina di giorni… beh, sarebbe davvero un botto niente male.
Pensa se invece stavano semplicemente aspettando di ammazzarsi di sake.
Ruote sgonfie
#DRIVECLUB will be removed from the PS+ Monthly Games catalogue on Oct 6th. Be sure to download it before you miss out!

— Paul Rustchynsky (@Rushy33) September 30, 2015
Dopo innumerevoli rinvii, incertezze iniziali e altri sfortunati eventi, grazie a una serie di aggiornamenti e a tanta pazienza DriveCl@b ha ritrovato recentemente la fiducia e i favori del pubblico. Voglio dire, dopo appena due anni sono riusciti a pubblicare la versione PlayStation Plus del gioco, che era stata promessa come gioco di lancio della console… se non è imbonire il pubblico questo!
Ad ogni modo, sembra che Sony ormai non si curi più di restituire un'immagine dignitosa al gioco, dal momento che proprio la tanto agognata PS+ Edition verrà rimossa dal PlayStation Store tra due giorni, il 6 ottobre. Scaricatela finché siete in tempo, se non lo avete già fatto.
Trackmeh
Restiamo a bordo di auto e passiamo a Trackmania Turbo, il nuovo capitolo della saga superveloce di Ubisoft (di cui per altro ho rapidamente chiacchierato nel Reportage da Colonia). Purtroppo, anche qui, le notizie non sono spettacolari: la casa francese ha infatti rimandato l'uscita del gioco (inizialmente prevista per fine novembre) al prossimo anno, sempre su PlayStation 4, Xbox One e PC.
Non tutti i mali vengono per nuocere, dal momento che il team di sviluppo userà il tempo a disposizione per sviluppare meglio la componente online e altri elementi fondamentali per il gioco, come l'editor di tracciati, la campagna e la possibilità di correre in multiplayer su circuiti creati dagli utenti.
E poi, diciamoci la verità, a novembre esce già un sacco di roba. Bene così!
Brofors
Dopo aver parlato della versione Early Access più di un anno fa, Broforce è in procinto di uscire in versione definitiva su PC e PlayStation 4. Vi ricordate anche di una versione PS Vita? Beh, scordatevela: gli sviluppatori di Free Lives hanno infatti cancellare il progetto per concentrarsi pienamente sul port casalingo, oltre che ovviamente a nuovi folli contenuti per entrambe le versioni. Ciao Vita, è stato meh conoscerti.
Flame
Chiudo questo breve appuntamento vagamente triste con la classifica dei 100 migliori giochi di sempre secondo la sempre ottima rivista EDGE. Il classificone, riportato dai soliti adorabili nullafacenti di NeoGAF, segue alcune regole fondamentali, tipo "valgono i seguiti ma può entrare in classifica un solo episodio per ogni franchise", "valgono tutte le piattaforme possibili" e, soprattutto, "i giochi non vengono filtrati attraverso la nostalgia ma attraverso il valore effettivo che dimostrano di avere anche oggi, nel 2015". Il risultato ci ha portato a una classifica in cui Tetris è dietro a The Last of Us, Drop7 sta quasi trenta posizioni davanti a The Stanley Parable e Dark Souls è numero uno.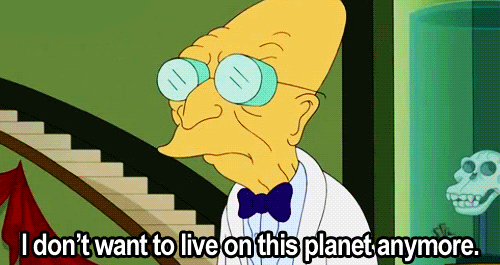 That's all folks! Mannaggia alla miseria!