Ripercorriamo gli annunci e le notizie più o meno borderline della settimana, con il solito piglio borderline da giocatori borderline coi baffi che ci contraddistingue. E poi, ci serviva un modo per riempire in modo un po' borderline le domeniche. Borderline. Anche la settimana della GDC volge al termine, con l'interessante ensemble di conferenze che, com'era intuibile, s'è portato dietro un discreto numero di annunci e notizie provenienti dagli eventi collaterali, organizzati da un numero impressionante di sviluppatori e nomi grossi del settore che questa settimana erano tutti a San Francisco, per mangiare robe improponibili e "fare" di videogiochi.
La bella vita, insomma.
(State tonnati fino alla fine, c'è l'aggiuntina!)
Moving from SimCity
http://youtu.be/l_ufAd79bOA
In realtà, non sono mancate neanche le notizie provenienti lontani da San Francisco. A Emeryville (ehr), per esempio, Electronic Arts ha chiuso gli studi principali di Maxis, il regno dove sono nati diversi SimCity e anche assurdi paradossi sull'always online. Nonostante la brutta notizia, non tutto è perduto: parte dell'organico verrà ricollocato in altri studi di EA, e le varie sussidiarie di Maxis (The Sims Studio, EA Salt Lake e Maxis Helsinki) rimangono comunque operative, e probabilmente continueranno a regalarci ore di calamità naturali, mostri atomici e barboni (virtuali, non ex dipendenti) con cui crogiolarci.
Depression Phil
http://youtu.be/7D0_Cj1xxDo
Un'altra storia finita male arriva dalla capitale inglese: Microsoft ha chiuso Lift London, studio diretto da Phil Harrison e fondato da alcuni ex dipendenti di Rare. Tra un licenziamento e una confluenza in Soho Production (altro studio sotto l'egidia Microsoft), a far rumore sono soprattutto le dimissioni di quello stesso Phil Harrison che, non va dimenticato, è (era) vice presidente di Microsoft, e che a quanto pare avrebbe cominciato a non gradire più certe situazioni aziendali già dall'abbandono di Don Mattrick, divenuto CEO di Zynga nel giugno 2013.
Buone notizie?
https://www.youtube.com/watch?v=fAwmbvRJkzM
La reazione dei maligni all'abbandono di Harrison è stata "Sony dopo di lui s'è ripresa", e forse non hanno tutti i torti: più o meno assieme alla notizia delle dimissioni, infatti, è stata annunciata la versione Xbox One di Elite: Dangerous, in arrivo in esclusiva temporanea durante il 2015 con tanto di contenuti extra. Un piccolo passo che, assieme alla vagonata di indie firmata ID@Xbox e alla conferma che anche HoloLens avrà la sua libreria di giochi supportati, prova a ridare linfa vitale a una spenta Xbox One. Spenta nel senso letterale del termine, almeno da quattro mesi.
Sonì
Passando alla sponda giapponese del fiume, Sony ha ufficializzato che il suo visore per la realtà virtuale, ancora nominato Project Morpheus, verrà venduto al pubblico nella prima metà del 2016. Il nuovo prototipo mostrato in California montava uno schermo OLED da 5,7 pollici con risoluzione 1920x1080 e un refresh rate di 120Hz (rispetto ai 60 del precedente modello), che restituiva le immagini con 18 millisecondi di latenza e un campo visivo di circa 100°. È stato rivisto anche il look, con tre ulteriori LED per l'head tracking e una nuova banda elastica a reggere tutto l'accrocchio sul volto.
MomentHideo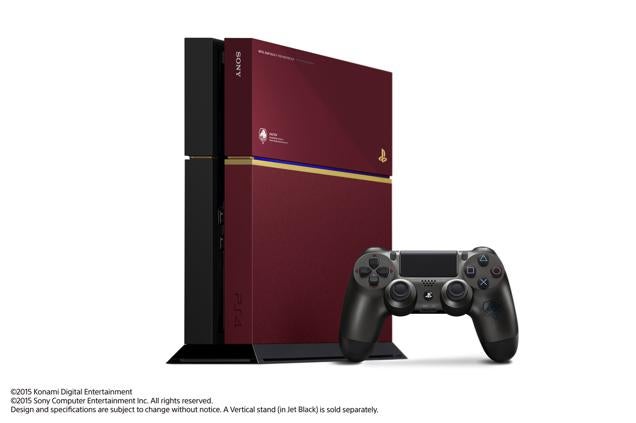 Il buon aleZ ha già illustrato le bellezze onanistiche incluse nella limited edition di Metal Gear Solid V, tuttavia il caro Hideo Kojima non si è limitato a illustrare protesi e a dirci che la sua ultima creazione uscirà il prossimo primo settembre.
Ciarliero come da tradizione, Kojima ha rivelato in esclusiva a IGN che, nel prossimo MGS, Snake parlerà raramente, lasciando ai giocatori la libertà di godere al meglio delle possibilità di un mondo di gioco aperto e, allo stesso tempo, "plasmare" un protagonista il più possibile aderente all'indole del singolo giocatore. Insomma, Kiefer Sutherland costava troppo e l'hanno pagato a battuta.
Tra l'altro, sempre ai microfoni di IGN, Kojima ha anche annunciato che The Phantom Pain sarà il suo ultimo Metal Gear, con tanto di mano sul cuore, giurin giurella e tutto il resto. Consapevole che dice queste esatte parole da più o meno vent'anni, Kojima ha rassicurato che questa volta è pronto a giocarsi la sua reputazione, e ha spiegato come MGS V chiuda l'ideale cerchio della saga, cominciato su Msx e giunto fino al 2015. Ad ogni modo, Kojima ha anche detto che la serie continuerà, in qualche modo, pur senza il suo diretto controllo. Crediamogli. Forse.
Steammo
http://youtu.be/b_Y8ktmSAzI
La GDC ha visto una delle rare uscite pubbliche di Valve, che dalla California ha fatto sapere che le Steam Machine non sono morte ma, anzi, sono praticamente pronte a invadere i nostri salotti il prossimo novembre. Le Steam Machine, PC da salotto preassemblati da Alienware, Falcon Northwest e mille altre aziende con la benedizione di Lord GabeN, promettono di fornire prestazioni superiori di PS4 e Xbox One già con i modelli più economici, venduti intorno ai 400 euro (potete trovare i dettagli prezzi/hardware sull'apposita pagina del client di Valve).
Oltre alle Steam Machine, Valve ha presentato anche lo Steam Link, un piccolo box che assomiglia a un hard disk esterno da 2,5 pollici in grado di consentire lo streaming a bassa latenza da una macchina Windows/Mac/Linux/SteamOS collegata alla stessa rete domestica. Steam Link verrà messo in vendita il prossimo novembre, al prezzo di 50 dollari. Sempre a novembre e sempre a 50 dollari verrà venduto anche lo Steam Controller, che ha finalmente raggiunto la sua forma definitiva (con uno stick analogico, quattro tasti frontali e i due dischi tattili, più tre tasti funzione, quattro dorsali e due alette cliccabili posteriori).
Inoltre, Valve ha annunciato anche la nascita di Source 2, successore di quel motore grafico che ha dato vita (tra gli altri) a Half-Life 2, ai due Portal e a DOTA 2. Source 2 sarà disponibile gratuitamente per tutti gli sviluppatori, a patto che i progetti realizzati vengano distribuiti attraverso Steam: una risposta intelligente a Epic Games, che qualche giorno prima dell'annuncio di Valve ha reso gratuito il suo Unreal Engine 4 (per uso accademico e per gli sviluppatori).
Rimaniamo in casa Valve, passando però ad HTC: il colosso taiwanese ha infatti presentato il Vive, ovvero il tanto chiacchierato visore per la realtà virtuale destinato all'utenza Steam. L'oggetto in questione, visivamente molto simile a un Oculus Rift, monta due display con risoluzione 1200x1080 e refresh rate di 90hz. Secondo quanto detto durante la conferenza di presentazione, il Vive si promette di essere estremamente leggero, e verrà accompagnato da due controller wireless, anch'essi marchiati HTC, in grado di farci interagire pienamente con oggetti e ambienti virtuali.
Agents of Nvidia
In tutto 'sto tripudio di console e consoline, non poteva mancare certamente Nvidia, che ha cambiato ancora una volta idea sul suo Shield: a questo giro si tratta infatti di un minuscolo set-top box attrezzato da console. Forte (?) di un Tegra X1 e una GPU 256-bit con 3GB di memoria, il nuovo Shield non solo avrà un ricco catalogo di film da gustarsi in 4K, ma anche una cinquantina di giochi (da classici come DOOM 3 BFG fino a Metal Gear Solid V: Ground Zeroes e l'imminente The Witcher 3), da gustare con una resa grafica più che soddisfacente (nonostante Nvidia dichiari apertamente che la potenza di calcolo è quella di due Xbox 360).
Ad accompagnare i cinquanta titoli arriverà anche Nvidia Grid, nuovo servizio di streaming in arrivo a maggio. Oltre allo streaming dal cloud torna anche GameStream, grazie al quale sarà possibile ricevere un gioco dal PC casalingo e fruirne comodamente, spalmati sul divano di casa. Il tutto, compreso di telecomando e del solito, orrendo pad, al mirabile prezzo di 199 dollari.
Rockbé
http://youtu.be/3pZNDZzCZ7o
Sembrava impossibile, o forse no, e invece eccoci qui a parlare dell'annuncio ufficiale di Rock Band 4, in arrivo quest'anno su PlayStation 4 e Xbox One. La vera notizia, comunque, è che Harmonix si cura della propria utenza e relativi risparmi, e permetterà ai giocatori di suonare (quasi tutte) le canzoni già acquistate nei precedenti capitoli della serie, all'epoca PS360. Ma non solo! Harmonix sta infatti collaborando con Sony e Microsoft per rendere compatibili i vecchi strumenti di plastica (qualora li abbiate ancora in casa). Dulcis in fundo, Rock Band 4 non sarà il primo di una nuova lunga stirpe, ma piuttosto un "hub" dal quale scaricare a pagamento nuovi contenuti, nuove funzioni e nuove caratteristiche ogni tanto. Una volta tanto uno sviluppatore intelligente, sono quasi commosso.
Sorpresa!
http://youtu.be/LMaqhq57vnY
Così, presi dall'entusiasmo e dalla produttività, giopep e Fotone hanno fatto l'anteprima di Outcast Reportage. Gioite!
That's all folks! Alla prossima settimana, con il piattume post-fiera!